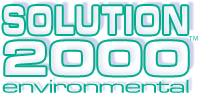 Biodegradable Cleaner - Biodegradable Degreaser
---

IS:
NON-HAZARDOUS
Not safety regulated
Material Safety Data Sheet available
Non-Caustic
Non-Acid
Toxicology test confirms non-toxic
Non-flammable
Non-fuming
Sewer disposable
Rust inhibited
Use on any material safe with water.
CONTAINS NO POLLUTANTS
Tested & approved by Government.
Tested & approved by Industry.
Written approvals
All ingredients on TSCA List
Very low VOC's
Biodegradable cleaner & degreaser.
SUPERIOR PERFORMANCE
Superior dirt and oil suspension.
No re-deposition.
Superior degreasing.
Replaces many hydrocarbon solvents.
Superior ease of rinsing.
Rust inhibited.
Low foaming.
Letters of recommendation.
REDUCES COSTS
Vary dilutions to replace different products.
Reduce inventory, save space.
Field proven by contract cleaners.
Field proven by industry.
Reported cost reductions average 60%.
SOLUTION 2000 International
The world-wide source of SOLUTION 2000™ Environmental
SOLUTION 2000™ is a Registered Trademark of:
EnviroSan Products Ltd.
Environmental Since 1975
Copyright © 1997 - 2004 EnviroSan Products Ltd.
All rights reserved.
This site last updated January 21, 2004.